Playing Cards & Tarot Decks
Look closely at a pack of cards with your collage mind working, and you'll see a small pack of art work, produced for our creative pleasure. Cards come in a range of sizes and with all sorts of pictures on the back of the decks, of course, but they also come with a wide array of designs on the front as well as cut into shapes.

Tiny Round Cards - SALE
THE most adorable little decks of Tiny Round Playing Cards you've ever seen! At only 1-1/4" in diameter, they are perfect for ATCs, minibooks, greeting cards, or any little project.

The bigger picture shows the graphics on the court cards and jokers, which we love, and the pattern of the numeric cards. All four suits have the same drawings, just colored a little bit differently. All numeric cards have a similar pattern. Even the backs have a cool all-over pattern, in several designs.

Blank Card Decks
Make your own special deck of playing cards with these blank-on-both-sides cards, or use them for flash cards. These are called Bridge Cards, which are 2-1/4" x 3-1/2", a bit narrower than Artist Trading Cards. They have a smooth, uncoated surface that's perfect for any stamping inks. A normal American deck has 52 cards plus 2 jokers. We've included a few extra cards for practicing. Or get a Sample Pack.

Note: Playing cards will not go through any printers or copiers, home or commercial. They must be hand done.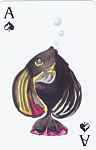 Natural Symphony Cards - Sale
A beautiful deck of playing cards for art work or card games, designed by the Chinese artist Yiying Lu. Inspired by nature in all its delicate beauty, this unique 54-card deck features exquisite portraits of birds, flowers, fish, and insects, with the suit marks subtly incorporated into the illustrations. 2-1/4" x 3-1/2".

Price:

$5.00 Sale: $2.50 <- - - New Lower Price!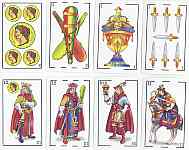 Spanish Card Deck - Sale
A deck of Spanish playing cards containing 50 cards in four suits, Coins, Clubs (like a caveman's club), Cups (more like a chalice), and Swords. Each suit has cards numbered 1-9 and all-male court cards from 10-12. The imagery harkens back to the medieval, and those kings could easily pass for King Arthur. 2-3/8" x 3-3/4".

Price:

$3.00 Sale: $1.80 <- - - New Lower Price!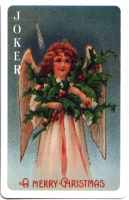 Christmas Angels - SALE
Old Time Christmas Angels grace the faces of this classic playing card deck. Each of the 52 playing cards + 2 jokers has a different picture, collected from old postcards. Beautiful for any Christmas-related project or as a stocking stuffer! 2-1/4" x 3-1/2"

Click here to see some lovely Christmas Cards using these Christmas Angels.

New Lower Price!

Price: $6.00 Sale: $4.50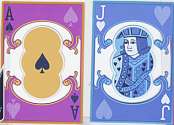 Transparent Sampler
A sample pack of 10 transparent playing cards, this assortment will include some of the cards shown above, plus other clear plastic playing cards from different manufacturers. Add another element to your collage with transparent cards!

Price: 10 cards for

$1.00 Sale: $0.75
Mahjong Cards - SALE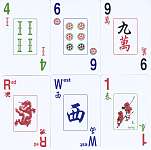 Cards for playing the Chinese game of Mahjong have wonderful images for collage. The picture shows the major suits: 4 bam (bamboo), 6 circ (circles), and 9 crack (characters), and a dragon, the West wind, and Spring.

They are the size of standard cards, 2-1/4" x 3-3/8". The deck has 178 cards, including 10 jokers and 4 blanks.
Mahjong Cards #2 - SALE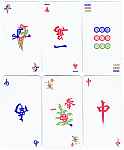 Another set of Mahjong playing cards, with different images for more Asian collage fun. This deck is meant for the Chinese market and uses Chinese numbers and characters, not Western ones.

They are narrower than standard cards, 1-3/4" x 3-3/8". The deck has 144 cards. Click here to see the box, which shows the backs.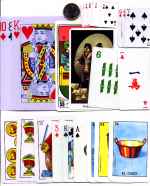 Card Pack Mixtures
Card Pack #1 is a mixture of 25+ cards: domestic, foreign, and Tarot. There are cards in different sizes and shapes: huge, regular, small, and mini, plus round, crooked, and oval. The foreign cards are from Chinese mahjong and Spanish decks.

Card Pack #2 is similar but has no mahjong or tarot cards and is a bit cheaper.
SkyBluePink is closing but whilst we wind things down, you can still order from what is left of our stock.