art (n)
creative work or its principles; a making or doing of things that display form, beauty, and unusual perception
-- Webster's New World Dictionary
SkyBluePink Art Gallery
Cat's Eyes
The Lady Debbie Metti has used our Cat's Eyes on her latest ATC and tag creations. So realistic!!
---
Christmas Angels
Lady Julie has created wonderful mixed media projects out of our Christmas Angel playing cards.

"I am attaching pictures of two different mixed media projects I made using the Christmas card deck, which I absolutely love. I used the covers off of some vintage books, with cloth covers as the base. I burned the raw edges, inked them. I also used some of the fabric samples I bought from you as well. I sewed the cards onto the fabric and paper and then as you can see I layered much embellishment and added skeleton keys with tassels I made."
---
Christmas Cards
Lady Kimber has made these lovely Christmas Cards out of our Christmas Angel playing cards.
---
A Summer Frock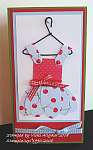 Vicki Allgaier set off a flurry of interest in our cute hangers with this card.

---
Hang Up Your Clothes!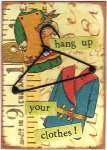 A very sweet ATC made by Lady Debbie with one of our hangers.

---
Fabric Postcards
The Queen participated in a Fabric Postcard Mingle and loved working on them. The base layers were pieces of upholstery fabric, embellished with netting, jigsaw puzzle pieces, lace, a vellum tag, and various machine embroidery stitches.

TIP: to use jigsaw puzzle pieces, yet keep the piece thin, peel off the printed top layer with your thumbnail. For detailed instructions on making fabric postcards, click the Links button on the left and scroll down a ways. There are two excellent tutorials there, with lots of pictures.
---
Bandanna Doodling
Lady Belinda Spiwak has been using an Inkssentials White Pigment Pen to make these cool Bandanna Doodles. Samples and directions can be found on Robin Beam's blog. More examples with a different overall look can be found on Lynn Robert's blog.
---
Valentine Ornaments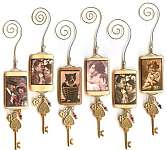 Lady Carol has wowed us all with her Valentines Ornaments made from our Big Bamboo Tiles. The images are transparencies she glued onto the tiles.

---
Chipboard Clock Faces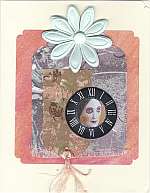 Princess Wanda, Personal Book Designer to the Queen, loves all things time related. She has used the now discontinued Heidi Swapp Chipboard Clocks in this greeting card collage. She placed a face image in the center of the chipboard clock, then layered it onto several tags cut out of fabric, and added a ribbon and a paper flower.

This would also work with our newer Teresa Collin's Die-Cut Clock Charms.



---
Coin Folder and More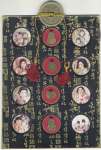 The Lady Debbie Metti made us this wonderful piece using a Coin Folder embellished with Double Happiness Coins, Lightweight Chinese Charms, and the Double Dragon Good Luck Charm at the top. The women are from the Chinese Calendar Girls card deck we used to have.

Debbie says, "For the coin holder, I cut one "page" off of the folder, painted it with black gesso and stamped the Asian text with Encore Gold Ultimate Metallic ink. Sprayed it with a matte fixative spray, then used a 1" circle punch to punch out the red papers and the images from the deck of cards. That's your Double Dragon coin at the top, and I added a tassel to it. I glued the coin on with Golden's Heavy Gel.."

---
Chinese Charms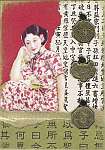 The Lady Debbie Metti made us this charming ATC using our lightweight Chinese Charms. The woman is from the Chinese Calendar Girls card deck which is out of print.

---
Irresistible Resistors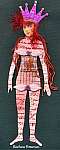 Barbara Rossman sent us this adorable paperdoll with Irresistible Resistors in her midriff.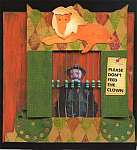 And continuing her infatuation with Resistors, we now have a Circus Clown contained with bars made of Irresistable Resistors.

---
Lion's Head Pull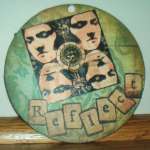 Jean Sunderman has created a unique round card called "Reflect", which uses a Lion's Head Pull from our Hardware for Art collection.

---