Glass Things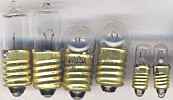 Wee Light Bulbs - SALE
Three sizes of real glass Light Bulbs! Wonderful for techno or Steampunk projects like charms, Tim's Configuration Boxes, shrines, etc. From left to right in the picture they are Cylindrical 1-3/16" tall x 3/8", Round 7/8" tall x 3/8", and Tiny 5/8" tall x 1/4".
Glass Vials - SALE
Small glass vials - great tied to a Summer Journal with a bit of sand inside, or holding tiny seeds, beads or glitter. They are round with either real corks (Size A, B, C, F) or plastic stoppers with a tiny hole (Size D). The C and D vials are identical, only the tops are different. The new Size G has a black plastic screw cap.

Sizes without the cork/stopper/cap:
A: 1-3/4" tall x 1/2" diam.
B: 3/4" tall x 3/4" diam.
C, D: 7/8" tall x 7/16" diam.

E: 1.5" tall x 13/16" diam.
F: 3/4" tall x 1/2" diam.
G: 1-3/8" tall x 9/16" diam.
Select:

Eccentric Magnifying Lens
- SALE -
A rather eccentric-looking gold-rimmed Magnifying Lens with a metal projection or handle. The little knob is the join that keeps the metal rim on the lens. Steam Punk, anyone? 1" diameter, with 3/4" stem.

New Lower Price!

Price: $1.50 Sale: $0.90
SkyBluePink is closing but whilst we wind things down, you can still order from what is left of our stock.