Clearance & Special Deals
Cool stuff... CHEAP!
Items that say Special Purchase are one-time deals we have found for you and cannot be restocked. Once They're Gone, They're Gone (OTGTG).
Surprise Boxes
Now that we are closing the shop, we will be adding many items from our regular lineup to the Surprise Boxes, in addition to other samples and special purchases. All cool stuff for your crafting pleasure! If you are interested in a particular category of items, you can mention it in the message box on the shopping cart and we will try to accommodate you.

So now we are boxing everything up and selling it at half the regular retail price! Each box will be different, but will be worth at least twice the price. You will find anything and everything in there -- ribbons, brads, beads, charms, game pieces and who knows what! Everything is brand new, unused merchandise. The style is general use, not holiday, and nothing is especially wild or too funky.

New Lower Prices!
Seconds Packs - a.k.a. True Collage
Occasionally, whilst we are diligently packing up an order or making a collage pack, we come across items in bad shape. We certainly cannot allow these imperfect bits to contaminate our Perfect Packs, so we have been collecting them in tins 'round the Palace, in true pack rat fashion. Now we are having a Sale and offering up 1/2 pound Seconds Packs for $4.

What's inside? Broken compass pieces, scratched hinges, overly wrinkled Copper Tags, ripped Joss Papers, misprinted Chinese Red Envelopes, book pages we ripped in the removing stage, broken charms, etc. Nearly anything can arrive from the vendor in less-than-salable condition.

To the True Collage Artist, someone who disdains perfection in her materials, these items are but grist for the creative mill. Bent up Copper Tags? Wonderfully antique looking with a quick application of patina solution! Scratched hinges? Perfect when repainted in wild shades of magenta and lime! Ripped papers? We rip things for collage all the time, that's half the fun!

Price:

$4 Sale: $3.00

per 1/2 pound

Mini Compasses - Seconds
We have a large number of imperfect little compasses - badly scratched tops, ugly blubs on the hands, broken open, etc. Still, they would be useful for collage and assemblage parts. Before we throw them out ("Mon Dieu!!") you can rescue them.

Small plastic compasses are 1-1/8" across, 3/8" thick, very lightweight, with black backs.

Price: 25+ for

$1.00 Sale: $0.60
Halloween Surprise Boxes
Since our everyday Surprise Boxes are such a hit, and we've noticed tons of Halloween merchandise in our vendors' clearance bins, we've decided to offer up a Halloween version!

Apparently this is all from Halloween collections of bygone years, but around here "Halloween is Halloween." You will find anything and everything in there -- ribbons, brads, stickers, beads and who knows what! Everything is brand new, unused merchandise.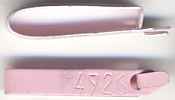 Pinklets
Special Purchase Pinklets are lightweight strips of aluminum, painted pink. Each has a 4-digit number embossed on it. You place tab A in slot B and bend to get a completed enclosure, 1-1/8" long, 3/16" wide. Or straighten it out for an interesting long pink piece of metal. 10 per packet.

Price: $0.50 [List: $1.00]
SkyBluePink is closing but whilst we wind things down, you can still order from what is left of our stock.