Alterables
Our cool collection of things for you to alter! Our line of Alterable Books is named Possibilities because that's what they will give you.

Possibilities Blank Books
Completely empty, inside and out, Possibilities are just waiting for your creative touch. The covers are made with the same materials as a normal hard-bound book: a chipboard base covered with durable, uncoated paper. The inside pages are made with a very high quality 65lb 7pt white vellum return card stock, which reminds us of artist's sketchbook paper. And it's all acid free.

Stamps, acrylic paints, markers, colored pencils, watercolors, etc., can be used on the covers and pages of our blank books. Permanent markers are not recommended, but, hey, who are we to limit your creativity?

We have 6 different Possibilities Blank Books in three sizes. (Note: All sizes are Width x Height with the spine on the left. Portrait is bound on the long side; landscape is bound on the short side.) The small ones come in portrait, 6-3/8" x 8-1/8" or landscape, 8-1/8" x 6-3/8". The Fat Portrait is the same size but has more pages.

The Large Blank Books come in portrait, 8-3/8" x 11", or landscape, 10.5" x 8-3/8". The Large Journal is in portrait orientation and has a lot of pages, which makes it good for a journal or sketchbook.

For help with straightening out your penmanship, get a Possibilities Line Guide. This heavy cardstock insert has dark black lines printed on it that will show through the paper in our blank books. One side is multi-part lines for beginners; the other is adult lines. Four styles to match our books: small or large, portrait or landscape.

Style: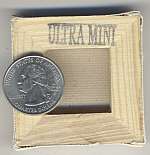 Ultra Mini Canvas - SALE
Very little stretched canvases, only 2" x 2" or 2" x 3"! Made from 11-ounce double-primed, premium cotton canvas. Acid-free. Titanium priming accepts oils, acrylics, casein, alkyds, and other water-based media. 3/4" deep.

Claudine Hellmuth told us about them at a trade show. She decorates several and attaches them to a larger background piece. We had several good ideas submitted by customers, too. Covers for wee books. Mini accordion screen shrines. Frames for inchies. Pendants or broaches.

Sold Out
Possibilities Comic Books - SALE
More Possibilities in the form of empty Comic Books! Frames for drawing and writing comics are printed on quality paper and staple-bound in a cardstock cover. Eight pages (4 sheets) plus covers. 8.5" x 11". Click the image above to see the layout of each of the pages.

What goes perfectly with a blank Comic Book? A plastic template for drawing those little thought balloons, speech balloons, and other shapes to put words in. Each Word Balloon Template is made of sturdy, flexible plastic with 16 balloon shapes for you to draw, as shown above. Great on a card or ATC with your rubber stamps of animals or people, too. Or sponge the ink on for a different look.

Sold Out

Blank Coasters - Beer Mats
Wonderful blank chipboard in the form of drink coasters or beer mats! These coasters are an off-white color, waiting for your decorating inspiration to take over. When used with colorful papers, they make perfect backboards for our Calendar Pads, or make small book covers with them. They should work in die cutters like the Sizzix, as well, and you would have both the die cut and the surrounding coaster with a shaped hole!

Since their function is to absorb liquid spills, using ink on them directly will probably feather out, but they could be pre-painted with acrylic or gesso to prevent that. 4" x 4" x 1/16".

Sold Out
SkyBluePink is closing but whilst we wind things down, you can still order from what is left of our stock.